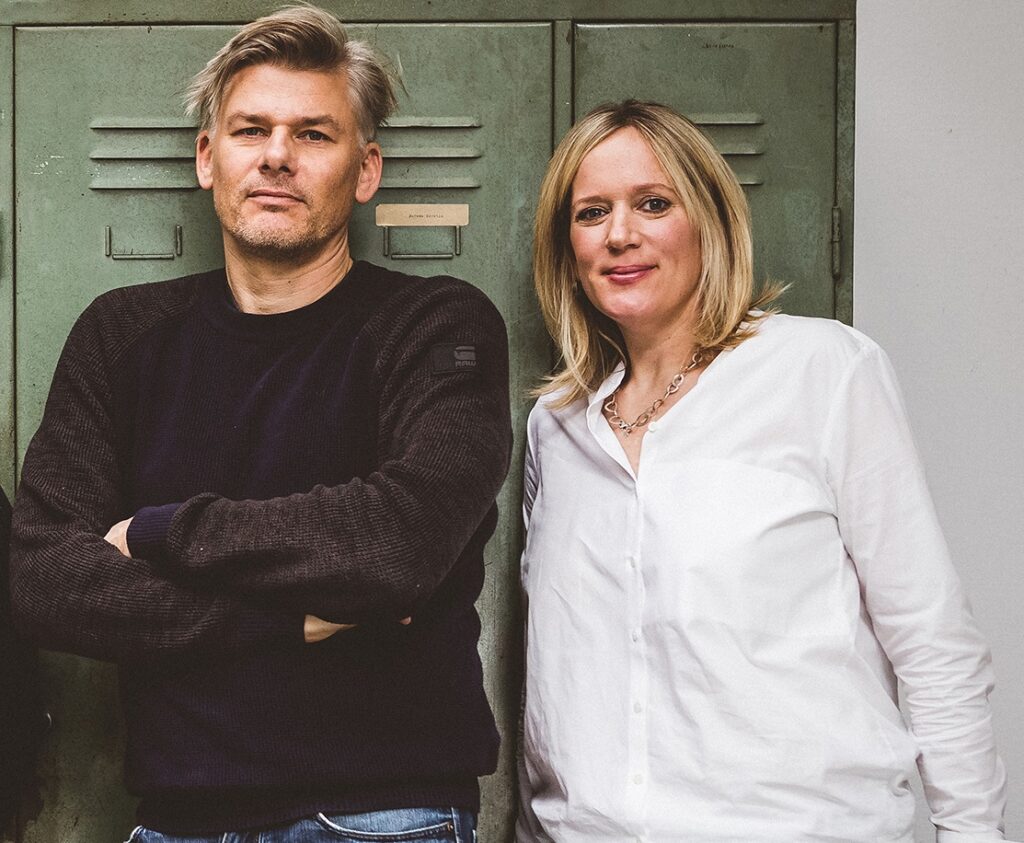 Please introduce yourselves. Who are you, what is the name of your company and what do you do there?
We are KAYA&KATO. In addition to us, the founders Stefanie and Stefan, there are 10 other employees. KAYA&KATO is a clothing manufacturing company based in Cologne, Germany. Since 2017 we have been producing sustainable workwear for the catering, hotel, retail and healthcare industry.
Why did you decide to start your company, what was your motivation?
We wanted to fundamentally change the market for workwear. The textile market is extremely price-driven. Aspects such as sustainability, production of raw materials, processing and working conditions hardly play a role. That has to change. In addition, workwear has had little to offer regarding innovations in terms of fashion and style for many years. But a good design and a sustainable overall concept are also a symbol for companies – whether restaurants, hotels or retail companies. We have now been operational since the beginning of 2017 and recognize that we have been able to set strong impulses.
What is special about your products and company?
With KAYA&KATO we focuse on new, cool styles in combination with 100 percent sustainable concepts when developing workwear. Our clothes are made from organic cotton or blended fabrics for which we use recycled plastic waste from the sea. Fishermen off the coast of Spain committed themselves to fishing plastic out of the sea at the same time as fishing, which is used for making KAYA&KATO's fabrics. In the meantime, this has become a cross-continental movement. In addition, KAYA&KATO is not a "green add-on brand", we produce fairly and transparently throughout the entire supply chain. Production takes place exclusively in Europe. In order to manufacture high-quality products and guarantee fair working conditions, we know all suppliers personally and thus offer functional and durable clothing made in Europe.
Where do you see the connection between sustainable gastronomy and your textiles?
The topic of sustainability has long since arrived in the hospitality industry with regards to food. However, origin and sustainability is not only relevant for food, but in all areas that affect our daily life and work. If you look at the market for workwear, it is truly astonishing that awareness of this has not yet reached many people. Workwear is such an important aspect for each individual and also in the overall concept and external image, especially for the catering and hotel industry: people want to feel comfortable at work, look good and be functionally properly dressed. Above all, they don't want to wear work clothes with lots of chemicals on their skin that are produced somewhere under questionable circumstances. So if you have an awareness of the origin and sustainability of food in the catering and kitchen, you should also direct this awareness to the areas of workwear and equipment.
What kind of cotton do you use for your products? Where do you get it and how do you choose it?
The conventional cotton industry is a huge machine. Cotton is traded on global commodity markets and commodity futures exchanges. Of the global cotton production, just about 1 percent is organic cotton. We use only organic cotton in our products. In doing so, we support sustainable agriculture and oppose genetically modified cotton varieties, the destruction of biodiversity, the use of chemicals and the associated health risks for people involved in production or wearing our products.
Some of our organic cotton comes from Gulu in northern Uganda. The land there is fertile and naturally irrigated by rain. Its proximity to the equator allows for multiple harvests around the year. The cultivation of organic cotton provides a steady income for about 40,000 small and micro farmers there. By not using chemicals, the people in the fields are not exposed to agents that are hazardous to their health. The farmers benefit from fixed purchase prices from the cultivated area, which are agreed upon even before the harvest. The quantity and quality risk is assumed by our partner. In addition, there is a bonus for each kilogram harvested. In this way, the farmers can calculate with a fixed income right from the start. And they can rely on long-term cooperation and development. Together with our partners, we now want to use organic cotton from Uganda in all our products.
What does the product cotton have to do with agriculture and how is it grown in the most environmentally friendly way? 
Compared to the world cotton production, organic cotton is still a rare commodity. Yet the advantages are clear: when organic cotton is grown, chemical synthetic fertilizers, pesticides and genetically modified seeds are eliminated. Monoculture is avoided and crop rotation is maintained. Cotton is just one crop of many. In addition to cotton, pumpkins, sesame seeds, chilies and potatoes are also grown. Thus, the soils do not leach, more even: they become more fertile through organic farming. Chemical treatment of the fields (fertilizers and pesticides) is completely avoided. The cotton is harvested by hand, which results in higher quality. Toxic defoliants as in mechanical harvesting are not used. While people die from pesticide poisoning year after year in conventional cotton farming, adherence to all organic rules in organic cotton farming protects people and the environment. The fertility of the soil and the cleanliness of the important groundwater are preserved in a natural way. Pest control is also carried out in a natural way: from complementary crops or the breeding of beneficial insects, such as wasps. In addition, farmers are provided with natural seeds, and the seeds are specifically cared for and developed. Each individual field is carefully monitored and all measures are recorded in a report. Compliance with all ecological rules is monitored by an independent certification organization.
Why is contact with the farmers of your cotton important to you?
The desire for ever newer and cheaper clothing is to the expense of the environment and the health of the people who produce and wear these clothes. Pesticides, which are applied in high quantities in cotton fields, and chemicals in further processing poison people and nature. In many factories in Asia, seamstresses work under poor working conditions and without social security. Overall, only 1 percent of the retail price of a conventionally produced garment goes back into production for labor costs. Even high final prices do not guarantee fair wages and ecological production. But there is another way: even with cotton from organic farming and with production that reduces the use of chemicals and manufactures under fair working conditions, workwear can be produced competitively without losing sight of people and the environment. This is our daily business. And only if we have a personal and trusting relationship with our production partners, and that includes the farmers of our organic cotton, can we guarantee good working conditions and high product quality. Our extensive certifications support us in this; every year our partners are also audited by them on site.
"The modern textile industry is under a lot of pressure: Just like in the meat industry, there has been a complete detachment of the consumer from the production process."
How can fair and environmentally friendly cotton farming be further promoted? 
The modern textile industry is under a lot of pressure: Just like in the meat industry, there has been a complete detachment of the consumer from the production process. The amount of work that goes into making textiles today is still enormous, despite technological advances. Many hands are involved in production. Often, for customers – but also for the manufacturers themselves – the path back to the origin of the garment, the raw material, can no longer be traced. In the textile industry in particular, the supply chains are very complex, and the industry is highly interconnected internationally. It is not uncommon for human rights and environmental responsibility to be overlooked in the production of textiles. That is why transparency is so crucial in this context. Only if manufacturers and consumers can understand the production route of a textile, the cultivation of ecologically and socially compatible raw materials can be further promoted and supported.
That's why last year we joined forces with tech company IBM to develop the blockchain-based platform "textile trust." With just a few clicks, it can be used to map the value chain of a textile. Using a simple app, all producers involved in the manufacturing process can transmit the data in a forgery-proof manner. The data is recorded in blocks and stored in the form of an unchangeable, chronological chain. If an asset changes ownership, this is evident within the blockchain. Production standards and certificates can also be transmitted in a forgery-proof manner at every stage of production. At the end of the textile supply chain, a QR code is generated that informs manufacturers and customers about each production step of the textile.
How important is cooperation with other businesses for you? Both other hospitality businesses and agricultural businesses.
With a sustainable concept, we work together with our customers, the hospitality businesses, to ensure that something changes in the area of textile production. That local people are paid on time and fairly. That no harmful chemicals are used. And that there is no greenwashing. We work with partners around the world who join us in making a difference: It starts with the harvest of organic cotton. The cultivation gives the 40,000 small and micro farmers in the Uganda region stability and a perspective for the future. By purchasing the workwear, customers and partners not only acquire high-quality products, but also have an impact on Africa's development and can see the direct effect of their purchasing decision. In the coming months, we want to work with our partners to use organic cotton from Uganda in all our products. This will only be possible if our – especially large – partners support us. In concrete terms, this means guaranteeing purchase quantities and also being prepared to pay a slightly higher price.
Why did you become a member?
The concept of Die Gemeinschaft convinced us immediately. A rethinking of our food system in our society cannot be achieved alone – but only together with strong partners. Focusing on the value of nature, sharing knowledge and learning from each other is essential to actually bring about change. We are excited and pleased that the community, as players along the value chain, is now including the area of textiles in its considerations. Regional food purchasing is already thematically understood and arrived in our society. What effects the production of textiles in low-cost countries has on our society and the environment, and what chemicals are allowed in textiles that we wear on our skin every day, still receives far too little attention in our view. Together with strong partners we can change that. That is why we are proud new members.
"According to estimates, the fashion industry causes 10 percent of global CO2 emissions – more than international aviation and maritime shipping combined. "
What do you wish for the cooperation within Die Gemeinschaft – are there certain goals that you want to achieve together? 
We consider the critical discussions of future issues of our food system to be essential. And it is precisely this critical questioning of established systems that should definitely be extended to the area of textiles. If I know which chicken laid my breakfast egg, I should also want to know where my clothes come from, what route they have taken and what chemicals are processed in the fabrics. We would like to see more focus on this issue with other members. As in the area of the food industry, we can achieve a lot of positive things here together: demonstrating that things can be done differently, better.
What are the most important issues that you think need to change in the coming years within the food industry, gastronomy, agriculture and why? Who do you see as being responsible for this and why?
A lot has already changed in the food industry. Consumers are much more aware of what they eat – and restaurateurs are committed to taking a critical look at the value chain. In the textile sector, sustainable development is rather slow. The Supply Chain Act has created the legal framework to improve the protection of the environment, human rights and children's rights along global supply chains. This is a very good and big step in the right direction. However, there should be much more reporting and education about how important it is to bring about change much more quickly in the area of textiles as well. This also applies to the issue of climate change.
According to estimates, the fashion industry causes 10 percent of global CO2 emissions – more than international aviation and maritime shipping combined. Against this background, reporting on workwear should also be expanded – there is still a lack of education here.
Thank you!