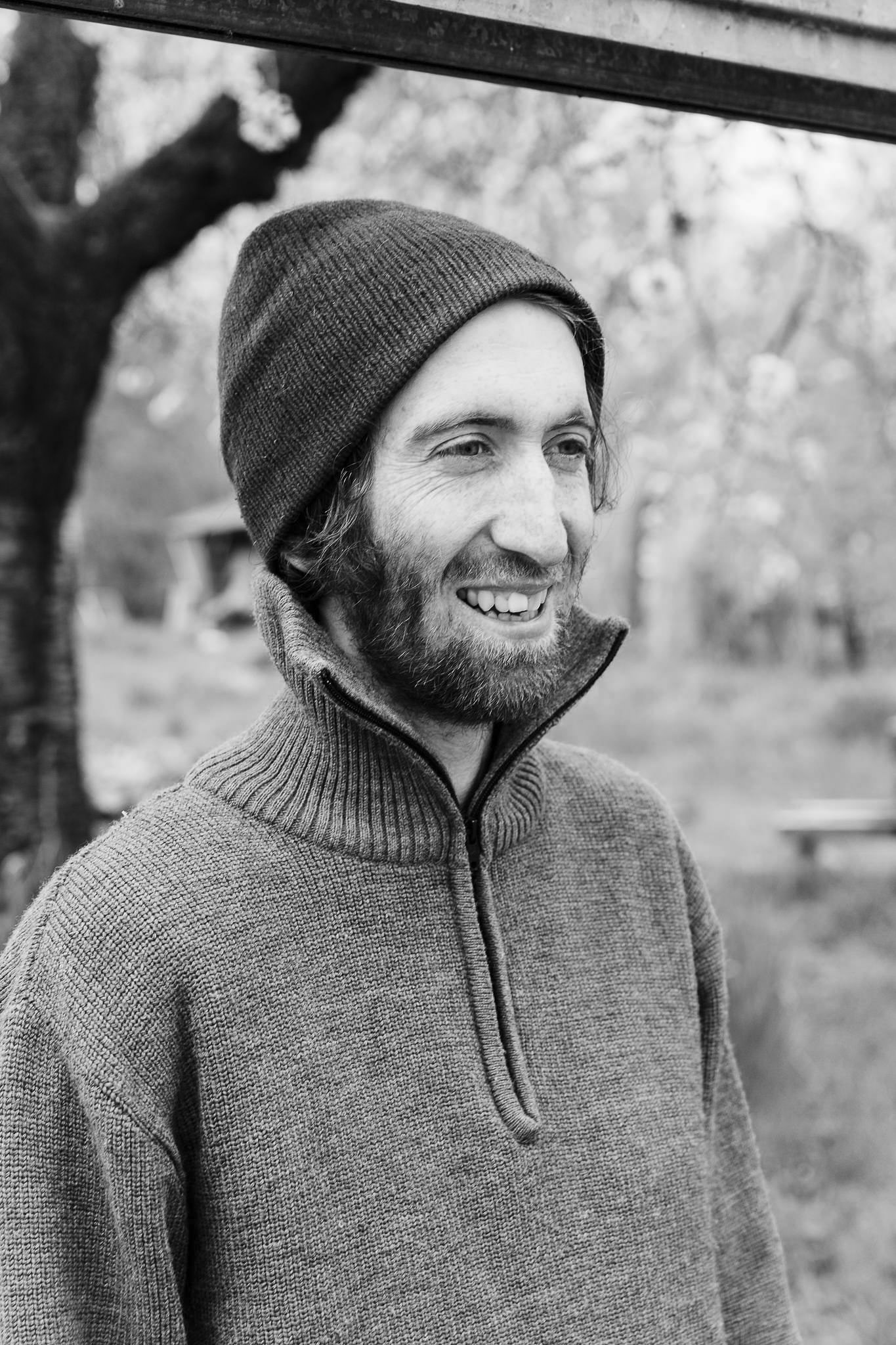 David Peacock and his wife Viola Garnetzke run Erdhof Seewalde, a farm nestled between several lakes in the South of Mecklenburg-Vorpommern. They not only focus on energy-conscious farming and the preservation of old breeds, but also open their doors to anyone interested in getting in touch with nature. We talked about the special features of the farm as well as the relationship between gastronomy and agriculture and why organic is not necessarily desirable for everyone. 
You farm and raise livestock on your farm. What do you do differently from other farmers?
What does animal husbandry do from the point of view of generating no consequential or incidental costs? Sounds super simple at first, and it is. But it is not the usual way to keep animals, because it involves more effort. We do it because it preserves the grassland and biodiversity, plus it is also the most ethical form of husbandry and provides for people with relatively little input.
What does that mean precisely?
Our cows graze our pastureland in summer, and in winter they are in the stable and get the hay from our fields. We drive them many kilometres every day and far away, on horseback instead of in an off-road vehicle. We run the farm on the premise of only buying machinery if there is no other way – but we have always looked for the other way.
The animals graze on a different area every day so that they do not eat the grass completely. We do the same with the milk sheep. Since cows and sheep have a different diet, they go well together. This is the best way to maintain the diversity of the land without creating monocultures.
We also have pigs, which are a good companion for humans because they are scraps recycles. However, they are only sustainable if they don't get anything that humans could still eat. For me, it is ethically unacceptable to give a farm animal what humans can eat. We try to keep our chickens, which we also raise ourselves, as grazing cattle instead of pumping 120 grams of concentrated feed into them every day. This is a bit reminiscent of chicken farming as it was 150 years ago.
What is the meaning of the name Erdhof?  
We named it Erdhof (Earth Farm) because we feel very connected to the earth and have travelled it often and far – we have been to farms in Japan, South Africa, North America, Ireland, England to gain experience and inspiration for our own farm. Basically, we continue on our farm what people have been doing for centuries, it doesn't need a new term for it. These simple methods are used to develop food and perspectives everywhere in the countryside, no matter where.
We also want to invite people to have their own experiences with us. If the Erdhof was not open to others, it would be worthless. Agriculture that does not invite is worthless.
​You supply some top restaurants in Berlin. What does the cooperation with them look like in specific words?
Partly it is very tailormade and constant, especially with Nobelhart & Schmutzig we have been working very closely together for some years. They take off a very high percentage – some would say it's not commercially wise, but we feel it's very positive to have a reliable take-off partner, although they already dictate in a way how and which products we produce with their wishes. Everything we produce beyond that we offer to other restaurants like Mrs Robinsons, Lode & Stijn and Remi.
If there is a high demand for milk products, the calf meat must also be taken off. Because you must look at it holistically – to maintain milk production, calves have to be born. And they must be eaten. Currently, the restaurants we are working with, immediately understood this. We then looked for common ways to make it work – what is the best age of the calf, how is the meat best, things like that.
Why do you only work with a handful of restaurants and not more?
For many cooks it is incomprehensible that they cannot order everything at any time, as they are used to from the wholesale trade. For example, they want double cream one week, but not the next – but we need more planning reliability- Because, for example, we always produce the double cream for the coming week at the weekend. We need binding information in advance, which is unusual and a big change for many restaurants. That was also one of the reasons why we decided to work with only a few, but much more consistently.
So, do you consciously keep your output small?
We have neither the desire nor the interest to scale it up. There was an investor last year who was interested in our farm and would have given us money relatively cheaply. He really wanted us to scale it up. But we want exactly the opposite. There was no understanding for that, which is why we ended up not working together. If someone does not understand our concept, our principles, I don't want their money either.
If you want to reduce your company to be able to deliver even better quality – you're just looked at shaking your head. I find it scary how monetary everything is.
"We have always sought the other way."
Why was it important for you to become a member of the community?
Food connects, no matter where you are – whether in the kitchen or on the farm. There is a lot of social attention for kitchens and chefs, in every Sunday newspaper you will find a big article about top restaurants or gastronomy in general. My goal has always been to do the same for farming. That works better in a group than alone, so it was a very logical step to join the community. There is a lot of exchange between producers and restaurants here, which connects.
How could the goal be achieved?
There are these common clichés: the stupid farmer, the disgusting butcher. These narratives must be broken; other images must be conveyed. For this, it is important to let the farmers speak more. You can position agriculture next to glossy gastronomy. Because the two belong inseparably together.
If we now zoom out a bit – what are the most important points that need to change in the entire food production chain in general?
We need the makers of tomorrow. We should invest a lot in young people who are interested in our work and our craft. We have an educational mission. I am sure that the investments we make now in the development of our region will pay off in a few years. And there is this big debate about whether and how organic is possible for everyone. I think these debates are purely political and useless. There is more than enough land that can be used for everyone to have access to good food. Organic for all would be just as disastrous as conventional for all – because it's not really so much a question of whether organic is yes or no. It's more a question of whether everyone has access to good food. It's more about whether everyone knows where their food really comes from, about creating an understanding for this. We simply must question our consumer behavior much more. The way it is now is too anonymous. A few years ago, there was the slogan "Shake hands with your farmer" – that's an incredibly powerful image, and that's exactly what we need.
​