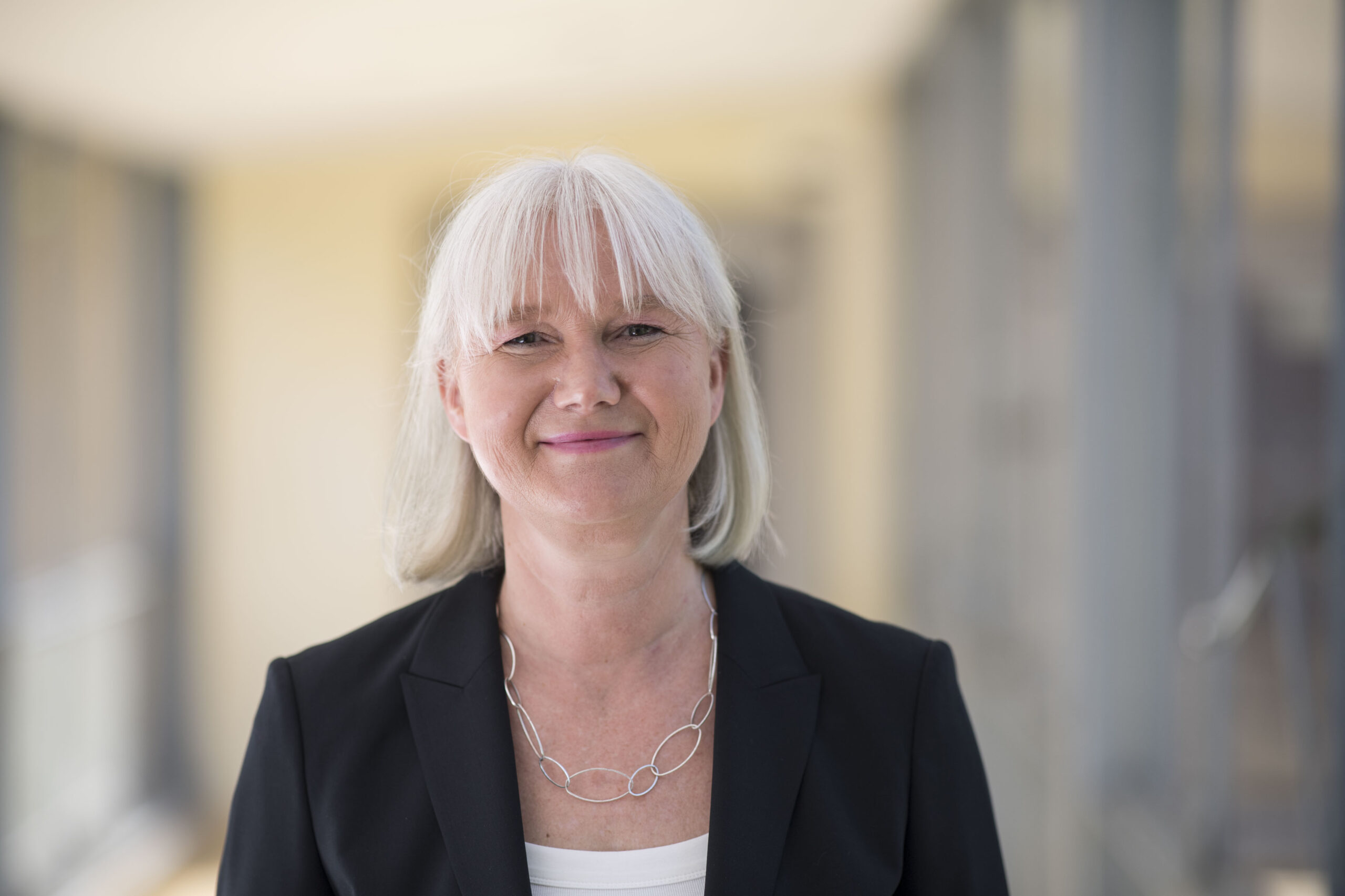 As a member of the management team at Havelhöhe Hospital, Heike Breidenich deals with the question of how to achieve good communal catering for everyone on a daily basis and talks with us about the general changes that are needed along the way.
Dear Heike, in which field exactly are you active?
I originally come from the gastronomy, went to hotel management school, and trained as a restaurant manager, but then, by a happy coincidence, ended up in the health sector in 1996. From the very beginning, I have been committed to a new eating culture in hospitals. I have been working at the Havelhöhe Community Hospital for six years, I am a member of the hospital management and I am also helping to develop and implement a new eating culture here.
What do you understand by food culture and how exactly do you try to implement changes?
This means quite fundamentally that hospitals have their own kitchen, because that is not the case in many facilities. And then we look at what really goes into the cooking pots. For me, a new food culture means fresh cuisine that works without any preservatives. Here at Havelhöhe Hospital, we have also greatly reduced the amount of meat on offer, which was in fact, one of the first steps. Instead of seven times a week, we now only have meat three times a week, which comes from organic, species-appropriate farming. At the same time, we have expanded the vegetarian dishes and created many new dishes, making them more exciting – because simply reducing meat and leaving the other dishes as they are does not work.
What is the importance of food in hospitals?
The most important thing for me is that the food in the hospital contributes to the health of the patients and does not make them sicker. It also helps to keep the staff healthy – which only works if it's not fast food, but food made from good food. In short, food that makes you healthy instead of sick, that's what I think is really important.
How do your patients accept these changes?
I'm going a step back at this point – because in order to implement something like this at all, you need a hospital management that is open to it. Nutrition plays a major role in anthroposophical medicine, so both our management and the doctors were behind it right from the start. Then, we worked out a concept together, that was in 2017. Overall, we took half a year for it and were then able to change over on 1 July 2017. And certainly not everyone was enthusiastic, neither all the patients nor all the staff. Therefore, it was all the more important that the entire hospital management was convinced.
How did the dissatisfaction manifest itself?
Patients went to the kitchen to complain or came to my office with the tray. They slammed the tray on the table and asked me what it was. Then I closed the door, offered them a glass of water and explained the concept – emphasizing that we want to offer food that contributes to health. In the beginning, there were many vegetarian dishes with exotic names that not everyone knew, especially there were often difficulties in the acceptance of the dishes. But now we have found a good middle ground, which has led to an enormous reduction in complaints.
"To continue the change, it is important to always bring together different perspectives."
And how did your cooks feel about the change in the kitchen?
They had to get used to me giving them regular feedback. I always try to taste all the dishes and I am very critical. In the meantime, the cooks have developed an openness and solution orientation, which is a huge developmental step and I think it's fantastic. Some of the cooks have been working with us for many, many years – so the whole changeover was very important for them. They found it great to be able to cook properly again. But they also realized that a fresh kitchen means more work, because you must chop a lot more and put the menus together in such a way that they are feasible. I'm very happy with the way things are going at the moment.
How does the contact with the producers look like – did you change your suppliers or did you stay with the same ones and just process their products differently now?
We have had direct contact with some producers for a long time, for example, we have been supplied by the Demeter bakery Weichert for 25 years. So, the basis for our breakfast and dinner has been of super quality for a long time. And we have expanded our contact with the dairy farmer Binder, who is only four kilometres away from the hospital. Patrick Wodni, who co-initiated the changeover here and accompanied it for 18 months, helped us a lot. He developed the recipes and was also so competent that he could really pick up everyone in the kitchen. They saw that he cooks for himself and that he's not above doing anything, and they were able to follow his way of working, which was great to see. Through Patrick we also got in touch with Erdhof Seewalde, which now supplies us with meat for our Sunday roast every five weeks. From the animal, the noble pieces go to the top gastronomy and we take the roast and braised pieces, which is good for everyone involved. We currently work directly with a total of ten producers, which is a good basis from which we can develop further.
Have you defined goals that you want to achieve?
In our last management meeting, the kitchen told us that it wants to switch to one hundred percent organic products within the next five years. The feedback came directly from the medical management, asking if we shouldn't consider biodynamic at the same time. I am very concerned about this, because it will not be easy to get all products in Demeter quality. But it is totally appealing to tackle this and remarkable that it is being discussed in such a large group. Because that means that everyone is behind it. We now have five years to change over in small stages and to see which products we can get where and how we ultimately want to process them. It must be done in that order; it wouldn't make sense to think about the dishes first.
But there are always economic calculations behind it. That would certainly entail a budget increase, wouldn't it?
Absolutely, because we always must see whether certain changes are economically feasible. It is always a struggle for money, a scarce resource in hospitals. If we want to increase the proportion of organic food to one hundred per cent, that would mean 250,000 euros more per year, Demeter would be even more expensive. That must be earned first. And despite these budget discussions, one notices that the topic of nutrition is very important to most people here, from which the kitchen can then profit again to move forward a bit.
Why is good community catering in general such a big concern for you and how can society altogether be made more aware of the issue?
It's so important for me because you can reach a lot of people. And I like the challenge of thinking about how to provide good food for a small budget. If there is more good community food, more people have access to a good meal a day – and not just wealthier groups, but really everyone, because everyone should be able to afford it. I think that makes a lot of sense and that's definitely what drives me in my work. I have the feeling that the topic of community catering is underrepresented overall, for example, there is more talk in the media about fine dining and upscale restaurants. Too few people are vocal in advocating for a broader shift in thinking.
"I believe that a change in consciousness only comes about when you experience things yourself and develop mindfulness. You must come more into the experience, expand your own subject areas, so that you can better understand the connections."
But it is not only the media that can make a difference.
Every individual can contribute to this by telling their experiences, in principle personal storytelling. People take this with them, tell others in their departments, in their circles. But we also need more responsible entrepreneurs for whom this is important and who then implement it. One person does it and infects others with it. I remember the Tagesspiegel, which published a whole page about us at Christmas 2017 after Patrick and I met the editor Kippenberger at an event. Their article triggered a real press frenzy, even the New York Times was with us to report on our kitchen. The best thing about it was that other clinics and hospitals contacted us afterwards and asked if we could explain to them how we went about it. We even had people come and spend a day with us and we told them about the costs and the recipes.
I would like to know why you became a member of the community. What inspired you?
I became aware of the community through Patrick and then read the manifesto, which I thought was great. The community is not made up of theoreticians who only have ideas and then don't implement them, but of practitioners – who first implemented their ideas and then found each other in the community. I also see myself as a practitioner and need something tangible that I can put into practice. That connects us all.
Has anything changed for you through the collaboration within the community?
We learn a lot from each other, listen to each other, support each other – and there is always direct support, for example when we are looking for a cook here in the hospital, Markthalle Neun shares it in their newsletter or Billy makes an appeal on Instagram. And that also shows that the upscale gastronomy has an interest in community catering, that they care about our future generations. I want to make the issues of community catering and education heard even more and I believe that the community can contribute a lot to this.
Where do you think more needs to be done in terms of training?
Olafur Eliasson once said that cooking is caring for others – this has been a guiding principle for me ever since. That's exactly where we should start, namely by communicating the health-promoting effects of good food. And all those who want to become cooks should do an internship in the field and pick up some soil and see what it looks like: What does conventional soil look like, what does biodynamic soil look like? I believe that a change in consciousness can only come about if you experience things yourself and develop mindfulness. People must experience things more, expand its own thematic fields to better understand the connections. I also think it would be great if we, as a community, gave the trainees the opportunity to investigate different companies, for example, to work for a few days at Nobelhart & Schmutzig, then in our kitchen, or with Florian Domberger in the bakery. It is about rethinking such processes.
Who do you see as responsible for driving change forward?
Each one. Which then again in their role. Everyone can make decisions about what they buy and cook. But there is the question of how to communicate this, which really must start in kindergartens and schools. It takes many small initiatives – of course one also must work on the framework conditions, but I believe that the strongest changes come from the sum of small organisations and projects, from people who are really convinced of the cause.
It is not only about food and farming, but also about new approaches in health care – for example, creating incentives for preventive activities, because now it is still expected that the health system 'fixes' diseases. To continue the change, it is important to always bring together different perspectives – this makes one's own picture more rounded and reduces blind spots.​