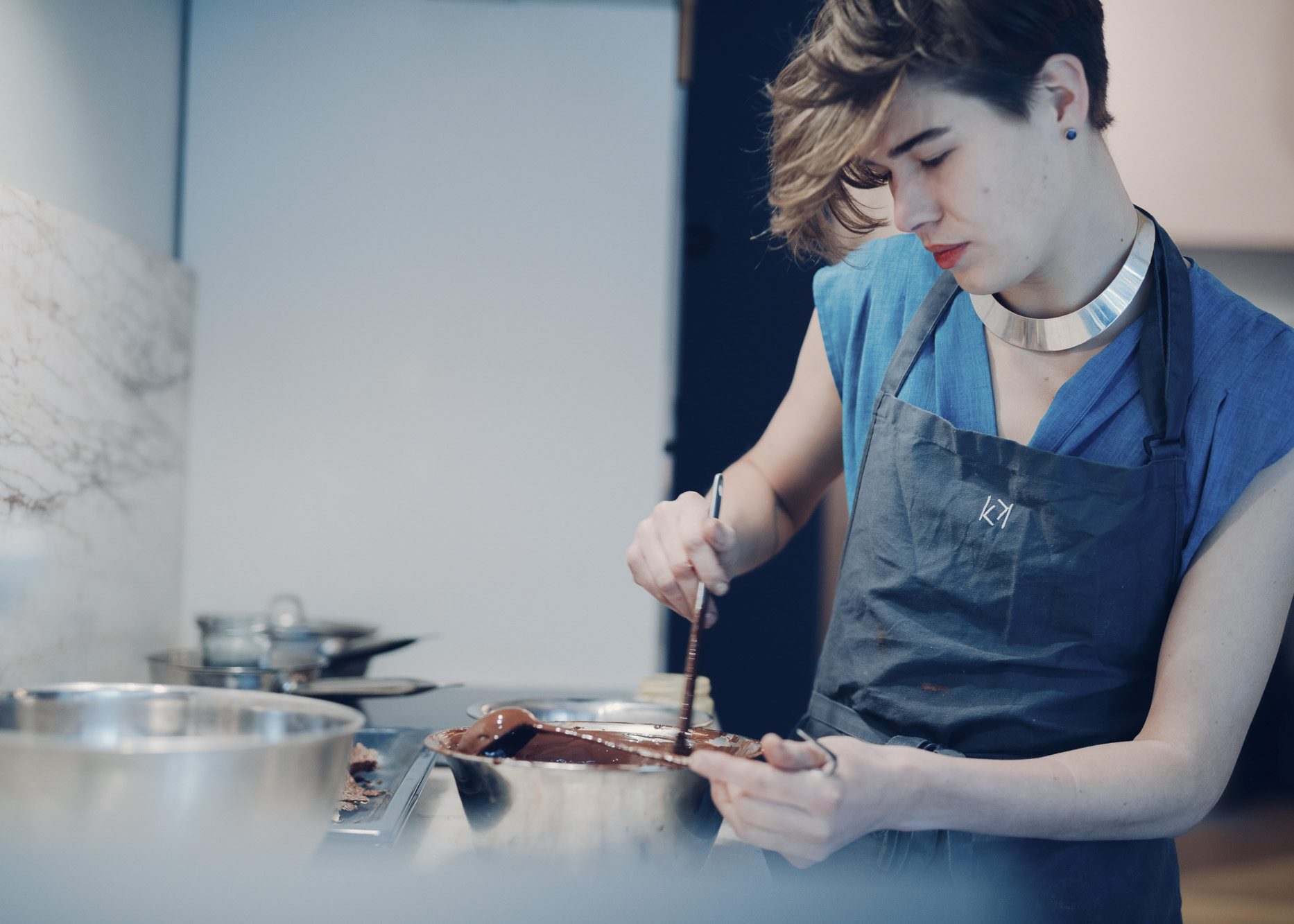 Kristiane Kegelmann works as a patissière and artist with a small team in Berlin. She tells us in her studio in Kreuzberg how these two areas influence each other, what difficulties the patisserie craft has to face and what prices have to do with it.
​Hello Kristiane, you are a trained patissière and artist – what specifically inspired you about the patisserie craft?
It started with a school internship in an organic confectionery in Munich, where I also did my vocational training. In any case, I always knew that I wanted to do something with my hands and didn't want to go to university back then. I used to bake a lot when I was young, I can't even comprehend that nowadays (laughs). And I always loved food, especially desserts back then. But the path I took was certainly not the only possible one, I could have developed differently. If the internship hadn't had such a positive influence on me, I might have decided against training. The company played a big role.
You switched to fine arts after your master craftsman training. How did that happen?
Exactly, I left the patisserie trade in favour of sculpture and went to Berlin. There was a lot that bothered me about the industry, especially the way money can only be earned – namely with insufficient quality, at the expense of the employees and through prices that are far too low, because the customers simply don't accept higher, justified prices. After my education, I have been to Salzburg, Australia and Vienna, where these old-fashioned structures really came to light. Most of the entrepreneurs were only interested in being able to make a sufficient margin on their products. At that time, I simply didn't see any further potential for myself in this area. But it wasn't just that, I also simply wanted to work more creatively and not just execute. When I had other material between my hands for the first time during a sculpture seminar in Vienna, I knew that there were other interesting areas that I definitely wanted to get to know.
What is the appeal of using food in art?
I tried out a lot of things in art for a few years, addressing different foods and working with ablation and processes of change, for example, but also investigating social processes. How do people act when they can and are allowed to touch something, because that is a threshold crossing in art, since otherwise it is usually never allowed to get close to the work of art, let alone touch it.
Did that also help you find your way back into the patisserie trade?
At some point I started making sculptures out of pralines, used the product praline in my work and designed the first shapes, until I realized what my artistic work was really about. I find it exciting to work with food, but not exclusively. So my work has developed both on an artistic and a craft level – and my own chocolates have come into being, resulting in today's pars Pralines project. I have always been something in between – never quite patisserie, but never quite art either, somehow the two have always interwoven naturally, I've oscillated back and forth between the poles. That also has to do with the fact that patisserie has something very sweet and cute about it, which I could never identify with. I first had to fight my way out of it in order to be able to integrate this craft into my work again on a level that was good for me.
​Your chocolates are the complete opposite of mass-produced industrial goods. What does a praline represent for you?
For me, a praline is the epitome of what has happened in the last few decades, actually since the beginning of industrialization – namely something that is actually totally precious and incredibly expensive to produce, something that has always been made for special occasions, but that has completely maneuvered itself into the opposite. It has become a product of which you don't even have to spend 1.50 euros for 20 pieces. Totally commercialized. I don't think that's necessary – because there are simply products where it's really nice that you don't consume them every day and that they remain something special. Then you can appreciate things in a completely different way.
The topic of prices already occupied you a lot during your training. How do you perceive pricing today?
We are constantly dealing with the issue of prices here in the manufactory. I would say that they are still too cheap, because the immense effort and high cost of goods hardly pay off. But you can only get away from the expense if you accept an inevitable loss of quality, which is out of the question for me. Some customers find the chocolates too expensive as they are and are not prepared to pay the estimated price, which is due to the individual production and the use of the highest quality ingredients. I can understand that to some extent, it's a lot of money. But the question must also be: How often do you want to enjoy something like this or give it as a gift? And why do people start trading the price of food at all? You wouldn't assume that a doctor could offer services for less. The price expresses a certain appreciation of the product itself and the craft behind it. But people must be made aware of this in the first place, there is far too little knowledge about it.
Pars Pralinen is sometimes compared to Sawade, as both companies are described as manufactories. A little bit deceptive here are the few designations: Our two manufactories are not comparable at all – Sawade is a very large company that has been in existence for over a hundred years, where the couverture is tapped from tempering tanks, whereas we currently temper each of our seven couvertures by hand. Pars is tiny, everything is made by hand. A hundred chocolates take us much longer than in a fully automated operation. That's why you simply can't compare the prices.
I really like this small-scale, intricate process, that was the appealing thing for me about this product. I can bring in my own aesthetics and language of form here and represent the preciousness in a certain way.
How could customers better understand how prices are made up?
As soon as someone gets an insight into the background, understands how prices are really made up, they can understand them better. Even if they can't afford it, they can still understand why and how prices arise, can weigh them up and no longer have to question them so much.
If we look at the big picture, are there areas in the food system where you notice that something is already changing in a sustainable way? If so, where exactly?
In gastronomy, definitely, Scandinavian and to some extent Japanese cuisine are considered to be a bit of a pioneer in this respect. But in the patisseries, by which I mean those within Germany, there is little to nothing happening. Worldwide, the situation is certainly different, but I can't say for sure. Germany is special simply because it is a country of savers. Eating out at star level is now accepted, but that doesn't exist in the patisserie. Maybe there is a difference to French patisserie, but there is no such thing as an everyday patisserie and a fine dining patisserie; simply put, everything has to be cheap.
For example, I have a friend who now runs a family pastry shop. If she tries to use even slightly better ingredients, which of course also influence the price, the customers go on the barricades. A piece of cake has always cost 2.35 euros, it can't be 20 cents more expensive now. In your business, there is no end to the calculations; to be honest, these are things that I really don't think about. Of course, there are other dimensions, other volumes that are sold. But if something has to cost 10 cents or even a euro more, in purchasing mind you, then that's the way it is. It has to be there so that I can maintain my quality.
But that's simply not the standard in German patisseries, the standard is the quality that wholesalers offer you. In very few cases is there a direct connection between producers and artisans, which I find a shame. It's really important to me to be close to what I'm processing. And to use what is available to us regionally. I can't claim to want to think and do things in a new way and then still process passion fruit puree. That's absurd and far from moving with the times.
"I really like this small-scale, elaborate manufacturing process, that was the appealing thing for me about this product. I can bring in my own aesthetics and design language here and represent the preciousness in a certain way. "
In any case, there is a huge need for action in many different areas of food production. In your opinion, where can we start to really change something?
In private, there are often people who simply don't think about what they consume. I often think that this must be clear to everyone by now, but that is just my own reality. Sometimes I'm too impatient to explain to them what's wrong or why a chicken should cost 30 euros instead of 2.99. But that's exactly what's needed. But actually, that's exactly what is needed, namely patient people who address and clarify such things. And without being dogmatic, because no one can always do everything right. That's what needs to be communicated. I think it can work well if you pass on the benefits to those around you, because positive aspects really move people to change things. With food, it is usually the case that what is better also tastes better. Simple really. Once you've eaten good cheese, you can't eat discount cheese again.
But politics would also have to change its ways, which can also be influenced by the fact that more and more small groups like Die Gemeinschaft (The Community) are putting pressure on them. For example, subsidies would have to be distributed differently, less profit-oriented. David (David Peacock, operator of Erdhof Seewalde, editor's note) once explained it to me like this: subsidies are calculated according to the yield based on the size of the land or the number of animals. This means that large farms receive high subsidies, small farms only small ones. If something like that were distributed differently, the picture would change – food would get a different price, large farms would no longer be able to sell at dumping prices. That would reduce the disparity in agriculture.
You just mentioned the community – why did you become a member and what core issues are important to you?
One of the most important reasons for me was and is that I have much less chance to achieve something alone than in a group of like-minded people. With the community we have the chance, in the long run, to really change something in politics. The bigger we become, the more attention we get and thus we can have a different influence. I also think the issues of community catering and education are really important, two areas that need to be given much more space in society as a whole. When I remember the ingredients we were given at vocational school – they were really subterranean. The lowest quality. And that's what you start working with, so from the very beginning you don't learn at all what good food qualities are, how to recognize and process them, but simply repeat standardized procedures for some kind of industrial product. Products from natural cultivation behave very differently from conventional mass-produced goods, but nobody teaches you this fact, neither in vocational school nor in master school. I found that really shocking.
Are there things that have changed for you as a result of working together within the community?
For me, the constant exchange is also very important, and this is in addition to the previous question. I already had that before, but now I have more and more direct opportunities to approach people who are specialized in certain topics. I think that is really important. In particular, the contact with farmers has become closer and I can understand their work much better because I have been on site and have looked into the processes, much better understand -which in turn has a positive effect on my handling of the products and the communication to my customers.
Last question to finish – what does good food mean to you?
For me, good food is fresh food – fresh, high-quality ingredients, preferably in such a way that I can taste all the components. And it must fill me up and make me happy. The fact that I am happy depends, among other things, on the quality and origin of the products. That is why I can't eat kebabs anymore, for example. Because I cannot erase from my mind the circumstances under which the ingredients were produced, that's simply not possible.
Photos
Jonas Holthaus, Övgü Özen, Pujan Shakupa