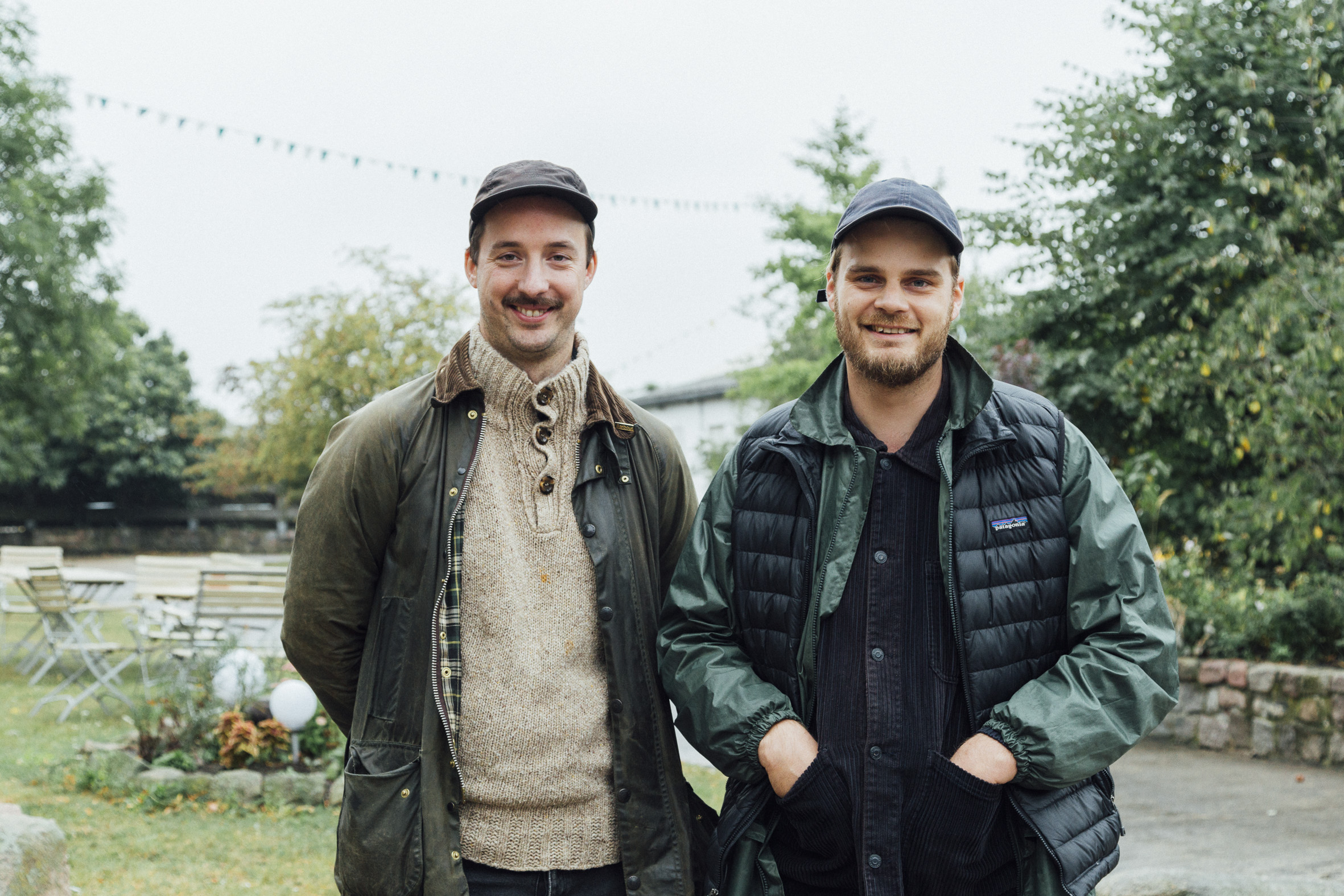 Lode van Zuylen and Stijn Remi run two restaurants in Berlin where they focus on serving regional products. They tell us how their collaborations with producers have developed, what experiences they have had in other cities, and what guests should expect in their restaurants.
Hello, you two, please introduce yourselves and your restaurants. What is your role distribution?
Stijn: We are Lode and Stijn and we run two restaurants in Berlin, Lode & Stijn in Kreuzberg and Remi in Mitte. We opened Lode & Stijn four and a half years ago and Remi in summer 2020.
Lode: Two years ago, when we started planning the Remi, our roles were also divided – Stijn takes care of the Remi, I take care of the Lode & Stijn. But of course, we also do a lot of things together.
What makes your restaurants stand out and differentiate them from others?
L: I don't really want to use the term no nonsense, but it has to do with that. We are very personal and approachable, people can quickly feel connected to us – we are not the manager of a brand, we are the brand. The food we cook is very direct and honest, people can easily understand it. And delicious (laughs). It's fun to eat with us.
S: That's not an easy question because you think directly of the competition or similar restaurants. But what is important for us are the good products and our self-evidence that what we offer must always be good. That has its price, but it is always justified.
L: If you as a guest feel like eating with us and come in here with an open mind, you will have a really nice evening. But you have to play along and trust us. And be prepared to pay for it to a certain extent. Then you'll have a great evening.
And how do the Lode & Stijn and the Remi differ from each other?
S: With Lode & Stijn we have clearly paved a way over the years – it's more of an experience restaurant where you get a menu created by us. You don't go here to eat every day, maybe once a month, or for special occasions. It's completely different at Remi – people even come twice a week and it's à la carte. But at Remi we cook with the same good products, which our customers really appreciate.
Regional, seasonal products play a big role in both of your restaurants. Why did you decide to work primarily with small producers?
L: When we started, our goal was not necessarily to buy only regionally, it's more a result of years of development. We gained experience in other cities, where it was possible to get relatively good ingredients through wholesalers everywhere. We've done a few pop-up dinners in the Netherlands and also worked in Stockholm, Prague, Hamburg and San Francisco. The Netherlands is a big city logistically, because you can get everything everywhere. And in all the other cities there was also a good base, probably it also has to do with the fact that the cities were not surrounded by a wall for 40 years and were also completely destroyed beforehand. In Berlin there was simply no good infrastructure at all for good food, not even average food. There was nothing more than supermarket goods – if you go to the Metro here, you can also go to Rewe. So, we had to find our own ways to get products that we were really happy with.
​
How has your collaboration with the producers changed over time?
S: At Lode & Stijn, the cooperation has grown over the years, and you build your own infrastructure. Now, for example, David from Erdhof Seewalde comes to us every Wednesday to deliver. On Fridays Grete Peschken and the delivery service of the market hall come every day. We have invested in this cooperation, which has taken years. But now we also profit a lot from it for the Remi. We now know each other and can access the good things more easily. But the difference at Remi is that we cook for a much larger audience; here we work more with the delivery service, less with small producers.
L: A lot has definitely changed in the four and a half years, it's a huge difference from now to then. But there were definitely moments that went wrong – that's part of the investment. With some farmers, there is no planning at all, it's more like ongoing planning. David tells us when he slaughters and we look at how we can divide it up, what we need at Lode & Stijn and what we need at Remi. Then there are others, like delicatessen, where we order by the kilo and state our preferences. They then look for the best quality for us. For these processes to work well, everything must be in tune, and that simply takes time.
What obstacles do you have to overcome when working with smaller companies?
L: We came from cities where you placed the order in the evening and the next morning it was at the door. When we came to Berlin, we found that we had to hand in our entire weekly schedule on Saturdays. And this was done through all sorts of channels – one you write an email to, the other you call, sometimes with, sometimes without an order form. Totally confusing and very time-consuming. Sometimes you make mistakes or your counterpart makes mistakes. Or something goes wrong somewhere in the supply chain. And what do you do if you accidentally don't order kilos of goods, but only pieces? Then you are standing there on a Friday evening, you have far too little product, where do you get it then? There was once an evening when I had to buy turbot in the metro because we did not get enough. The quality of the fish was so bad, so different from what we usually have – it really hurt to send it. Accordingly, the menu didn't fit together at all, didn't work anymore. That only happens once, because you learn from it.
And what are the positive aspects of working with small producers?
S: The most important point is that after all the years we have been working with products of this quality, we cannot go back. If the producers and their products no longer exist, our restaurant can no longer exist either. The products determine our cuisine and our style of cooking – you notice that when you eat here.
L: Two years ago, we did a pop up dinner in Amsterdam and sent a list of the things we needed beforehand, stressing that we needed really good merchandise. When we got there, only standard merchandise was waiting for us, because in their eyes it was the best merchandise available. That was quite unsatisfactory, similar to what happened with the turbot.
"If the producers and their products no longer exist, our restaurant can no longer exist either".
​
Where do these different expectations come from?
S: This is mainly for economic reasons. You first have to be prepared to pay higher prices, to spend more money on the goods. And your whole concept has to justify the prices. Many guests, no matter in which city, are not yet ready for that.
L: Besides, many restaurateurs are not necessarily chefs, they lack an understanding of the merchandise. They shake their heads in disbelief at a 20% commodity input, because their input is far higher than that. This is mainly because we recycle everything, both vegetables and animal products.
How can the cooperation between gastronomy and agriculture be strengthened in the future?  
L: I don't think there is any other way to do it than to meet and talk in person. We recently went to Karen Schlegel's farm to help butcher ducks. The normal plucking process is quite rough, they first go into a hot water bath, then the feathers are plucked in a special cauldron, then they are rolled. The last quills are removed by a hot layer of wax. I plucked one of the thirty ducks dry by hand, which took a really long time. But the result was a total difference: due to the heat the duck is otherwise exposed to, it loses a lot of fat. That has a big effect on the quality and taste. Two days later Karen called me because she was asking about a dry plucking machine. This would never have happened if we hadn't met. And even though I can't invite everyone to our place for a cooking class, they should all come and eat with us sometime. Just to better understand the result that we create here. And we should also go out more often to see how the farmers do their work.
Keyword collaboration – are there things that have changed for you through the community?
L: It has definitely accelerated things. For example, we now do dry-aged fish. We have a lot of contact with Ben from Mrs Robinsons (restaurant in Berlin, editor's note), he contributed to it, actually by chance. When we ran out of fish, I called him to see if he had two fish over. He gave me two dry-aged sea bass, they were really good.
S: Yes, this exchange among each other is good and important.
L: I see the community as a kind of meeting place, like a marketplace. Where three different worlds are brought together – gastronomy, agriculture, community catering. We need to work more on a common vision and ask ourselves what our goal is. In my mind, the community works like a magnet that attracts many people who come from different backgrounds and come together and work through the community.
In general, what points are most important to you that need to change in the entire food system?
S: For the perfect world?
In principle, yes.
S: A lot of things are connected. From a gastronomic point of view, it's all about the product selection, the people we hire and how we pay them, the price the guest pays, which is ultimately how we pay our bills. We follow a certain ethos, which we are still expanding with our second restaurant. And we are happy to inspire other shops to act in a similar way to create a more sustainable gastronomy.
L: We once had the food critic Bernd Matthies as a guest, who criticized the fact that you cannot eat à la carte at Lode & Stijn. I wonder why he cannot accept our concept and criticises it to such an extent. We have quite consciously decided to offer only a menu. The world he wants, where you can choose everything and everything is always available, must be much more expensive than it is on average. Because this world can only exist through bad pay, black money, bad products, and a lot of waste.
S: If more restaurateurs only offered menus, the guests would accept this situation much more readily and awareness would grow. Because with a menu you need a concept and can pay much more attention to using everything and calculate better. But the guests must learn to get more involved.
L: In any case, a lot of education is still needed.
S: And, more appreciation for the restaurateurs. For the fact that they think about it.
Photos
Die Gemeinschaft, Sam Harris, Robert Rieger
Text and editing
Elena Rodríguez de las Cuevas