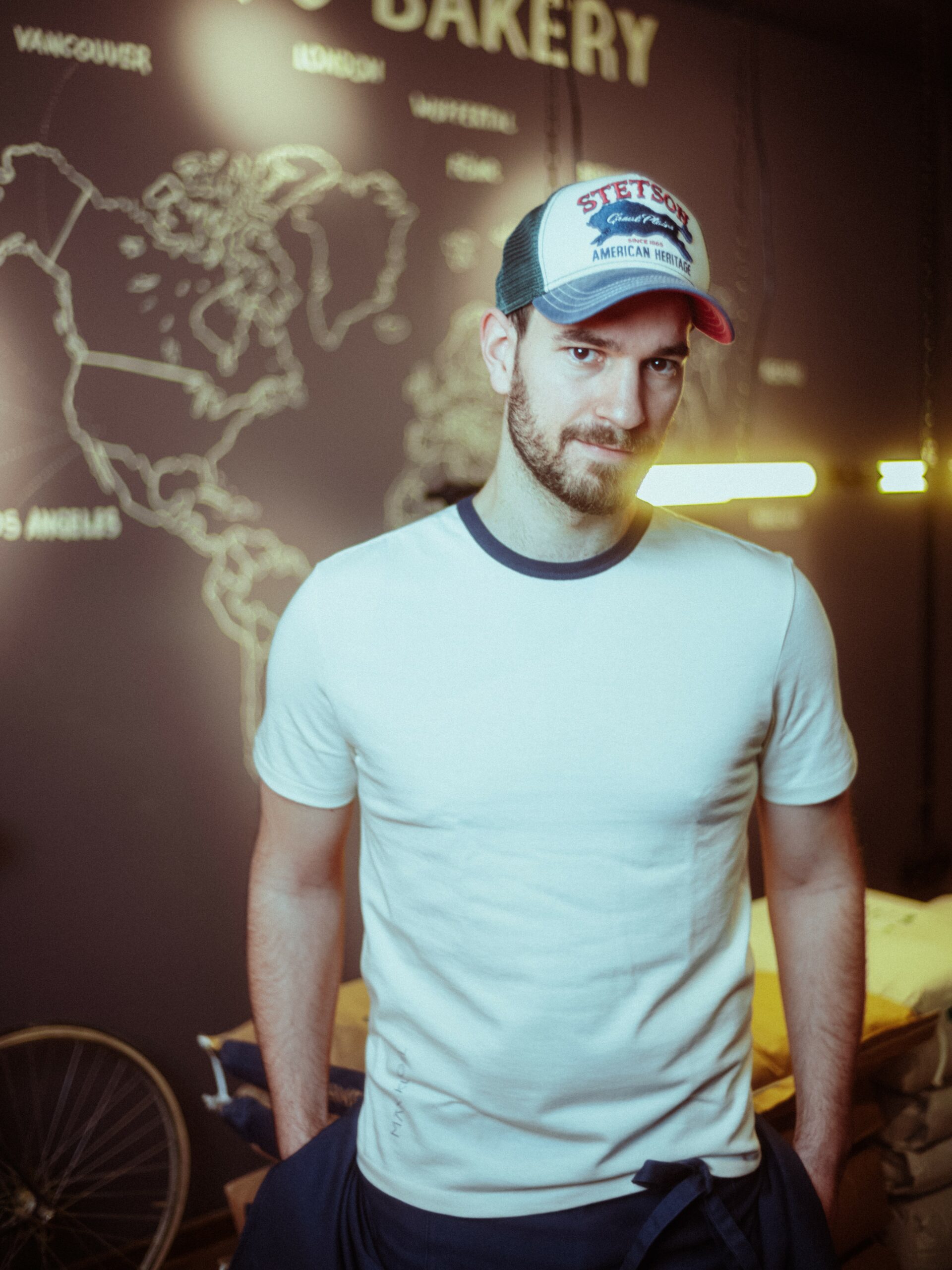 Dear Max, could you please introduce yourself briefly and give us a little insight into your work?
Hello, I'm Max and I run a small bread bakery in the southern part of Bonn with my team of 13 people.
What is the concept of your bakery?
We focus on one thing – bread! Ten varieties in total. Nine of them always stay the same and one changes daily and repeats weekly. We keep everything as simple as possible and raise this simplicity to the – for us – highest level. We work exclusively with unprocessed raw materials and do without anything that is unfortunately too often added today to achieve an optimal result. Our supplement is know-how.
We open later in the morning and bake during day to avoid having to work at night. Five days a week, with six weeks of vacation where the store stays closed every year.
You come from a family of bakers. When did it become clear to you that you also wanted to practice this handcraft? What excites you about this profession?
My education to become a baker was supposed to be just a gap filler so that I could become a chef when I came of age. But the baker's profession was really suitable for me and I quickly mastered the essential skills. At the end of the apprenticeship, my passion for baking had grown and I decided against becoming a chef. Baking depends on so many little things that make the bread what it is in the end. And bringing just this one product to perfection is what drives me every day.
"I want to pass on my knowledge to people that share my drive. That way I can contribute to keep our handcraft alive the way that I believe it should be"
More and more people are choosing to learn a handcraft. Baking is especially popular. What role do you think handcrafts will play in the future?
I think that the world is open to you when you learn a trade. The Covid period really showed which professions are resilient to crises and relevant to the system. Besides, as a craftsperson you always have the key ingredients with you, your knowledge and your hands. So move something and learn a craft!
There are now many bakeries that for example work exclusively with sourdough and try out "new concepts". Do we need more of them?
The development in our sector in recent years has been enormous. There have been many start-ups based on this "new concept" you mentioned. I meet that with mixed feelings, though. New concepts are one thing, but it takes more to make an honest product. A bakery product must transport a complex idea from the baker to the consumer who enjoys it from my point of view – that is not sufficiently recognized yet. So there will be more and more bakeries, but higher quality is still a long way to go…
You've gained a solid reputation in quite a short time. Why is your concept so successful?
In my opinion, it's because we focus on one product. My idea was met with skepticism initially, but I had strong hopes that it would work out, and today I'm very happy to have been confirmed in that. I live this handcraft like maybe just another handful of people in Germany.
What does it mean for you as a baker to work with regional grain and farmers?
This is a difficult issue, especially in the organic sector and particularly in Nordrhein-Westfalen. The soils in the South are often better due to the weather conditions and provide the grain with more strength than ours in NRW. We get our flour from the Drax Mühle, 80 km from Munich. Here there is a relationship of trust, which is enormously important and in my case even tops the regionality.
Do you think there is a need for more cooperation between gastronomy, agriculture and handcraft food sectors? Why and how can this be strengthened?
In my view, this would be a clear benefit for everyone. The synergies that would be created could increase the value of the products as well as the awareness. At the moment, however, I don't think there are enough people that want to push this idea. I hope that this will change soon, because together you are always stronger than alone.
You've traveled a lot, you' ve been to cities like San Francisco, Zurich, London and Vancouver. How did you integrate your experiences from this time into the way you work today?
I took what was most important for my store and bakery from all the cities I traveled to. Our bakery has a dark, uniform color for the walls and ceiling that I took inspiration for from my time in London. The lifestyle in San Francisco but also the Asian serenity – I combined and reunited everything to live it every day with my team.
"I think that the world is your oyster when you learn a handcraft. […] On top of that, you always carry the essentials with you – your knowledge and your hands. So move something, learn a handcraft!"
What challenges on the one hand and what opportunities and possibilities on the other do you see for your sector now and in the future?
On the one hand we have a great opportunity to elevate our profession and the products to a completely different level and to strengthen their value. On the other hand, we also have to realize that real quality is not possible on a large scale and with umpteen stores. At least in the food sector, this is not possible if you're unwilling to make a sacrifice. Quality starts with one store and stops with the second…
What are the next goals you are pursuing for the future?
I would like to live our business and our handcraft even more consciously. In terms of raw materials and their origins, I would like to become even more regional and source ingredients such as walnuts from my own country. I would like to pass on my knowledge to those who have the same drive as I do. In this way, I can do my part to keep our handcraft alive, as I believe it should be.