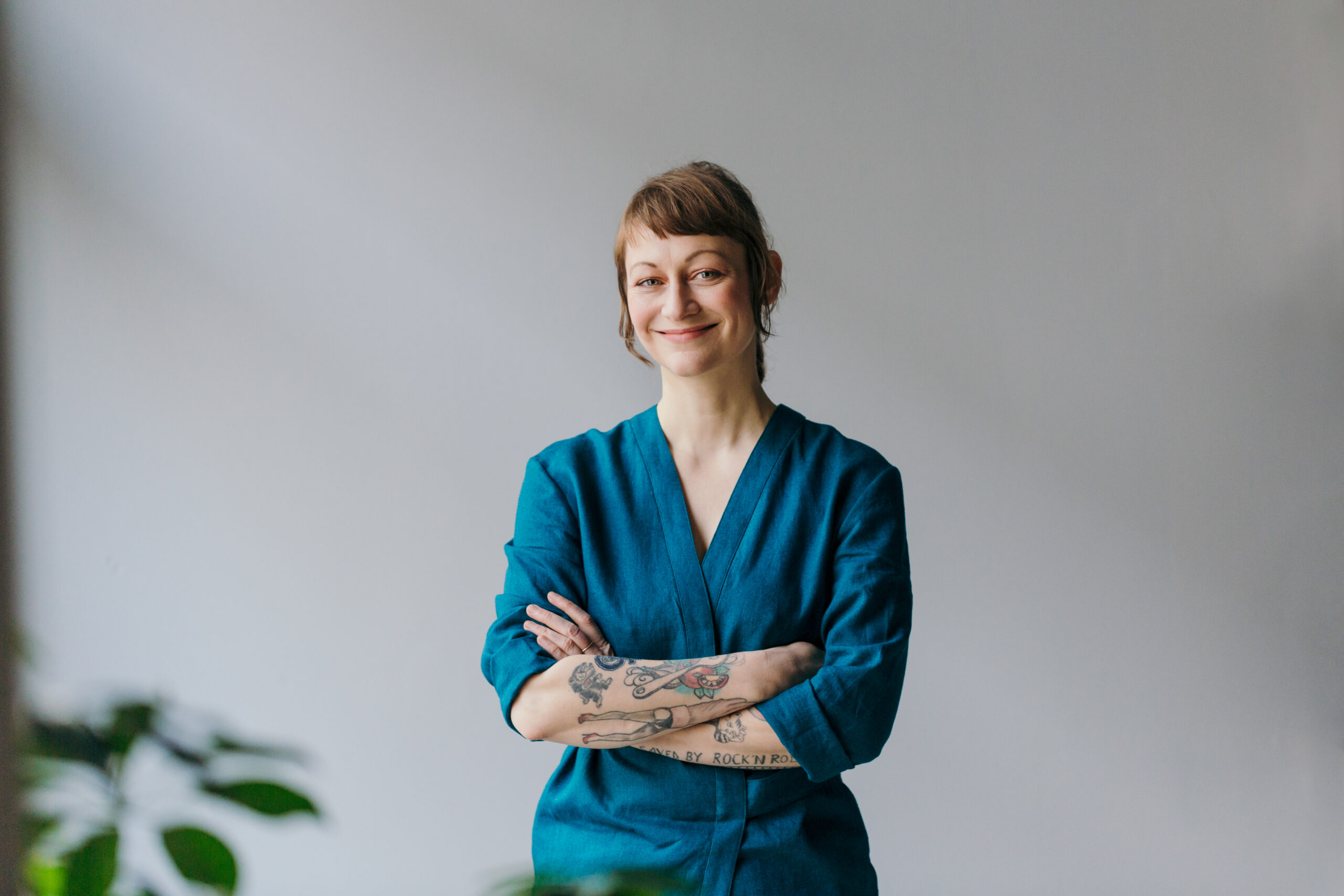 Sophia Hoffmann is a chef, author of several cookbooks, and activist. As an expert and speaker, she applies for social and feminist issues in addition to food topics such as food waste and organic farming, because she says: Everything is connected. Sophia focuses on a plant-based cuisine and aims to make it as regional and holistic as possible.
Why did you become a cook – what excites you about this profession?
Because it's a process where you can evolve throughout your life and never feel like you know or can do everything. This humility of constant development and discovery holds more motivation for me than the idea of reaching a certain goal or arriving somewhere and staying there. The sources of inspiration are almost infinite. Not only in terms of the cultural and historical spectrum of cuisine worldwide, but also the new innovative perspectives, especially in the field of plant-based cuisine. Moreover, the preparation of food is probably the most immediate creative activity with which one can achieve and share a result in a very short time: You serve, and the whole thing is eaten.
You can make yourself and other people happy and full with it. What could be better than that? These are aspects that give me a lot, not because my ego is thirsty for permanent confirmation (which certainly applies to some cooks, that would be the wrong motivation for me), but because it makes me happy to make others happy. Sounds cheesy, but that's how it is.
What does good food mean to you?
High-quality ingredients in organic quality, simply and tastily prepared.
What responsibility do cooks have towards their environment?
I have certain core values and these should also be reflected in my work. I am an absolute advocate of organic production and have recently completed further training as a "specialist in organic gourmet nutrition" at the Cologne Chamber of Industry and Commerce. For my own restaurant (in planning) I would like to have organic certification, unfortunately this is still not a big issue in German gastronomy, for example in comparison to Scandinavian countries. Many restaurateurs are put off by the extra costs of certification, but I think that the seal is a great sign of quality for consumers, as people go shopping, they are paying more and more attention to this.
I see the responsibility of the catering trade, in good German, as "not to go along with every piece of shit": at Isla Coffee Berlin, where I last worked, there is no avocado toast, no banana bread and no tomatoes in winter, and yet our guests are more than happy about buckwheat porridge, apple pie and homemade sauerkraut.
What are the advantages and disadvantages of working in gastronomy as a career changer?
I think it is more important to talk about WHY I am a career changer, because I have been reflecting on this a lot while working on my new book, which will be published in April 2021: Because there is still no contemporary training for cooks with a focus on plant-based cuisine and because 20 years ago, after leaving school, I simply lacked female role models in this profession. So at that time I didn't have the idea of taking up the training path, even though I had a great passion for cooking from an early age and had worked in kitchens since I was a teenager. Representation matters. Fortunately, this is slowly changing and I am happy to be able to contribute to it. Many women are lateral entrants because they create their own working worlds, bring in impulses that are missing in an entrenched industry, out of a need for change. I don't see any disadvantages. I trained as a hairdresser and I know that the knowledge you have after your apprenticeship depends very much on the quality of the training company. You can also gain this knowledge in alternative ways.
Why did you become a member of the community?
Because I think communities are basically great and I believe that everyone involved benefits from networking and "togetherness". And especially the closer cooperation and exchange between restaurateurs and producers is an important part of it.
What do you wish for the cooperation within the community – are there certain goals that you want to achieve together?
I think it's important to keep the motto "Good Food for All" in mind, setting an example and doing educational work, but never being too elitist. Sensitivity to gentrification, making the community even more diverse and making good food accessible to as many people as possible.
In your opinion, how can the cooperation between the gastronomy – agriculture – food craft sectors be strengthened in general?
Through exchange, through "getting to know each other". Sending cooks into the field, direct reference, discussing problems and looking for solutions together.
For me as a zero waste expert and a restaurateur in the planning stage, the topic of rejects will certainly be interesting in the future, so working with food that has defects, is by-products, etc. to integrate these into our menu and thus perhaps also be able to offer lower prices for organic quality is our big goal.​
"We need to understand how much effort it takes to produce food and also know about which foods are problematic."
How can society be further sensitized to the issues of zero waste and sustainability?
There needs to be a stronger focus on this, both in cookery training and in traditional school education. We need to understand how much effort it takes to produce food and know which foods are problematic. Bananas are the second most popular fruit in Germany after apples, even though they come from far away. Bananas, coffee and chocolate were once luxury goods and are now standard for us, we all consume them virtually every day at spot prices. We need to be aware that other people often pay the price. Child labor and modern slavery are unfortunately a sad reality in cultivation, so we should focus on Fair trade and consume less but more consciously. The same applies to animal products. People, animals and the climate unfortunately suffer from this industry. Only if we know that, we can change something.
Have you already experienced a noticeable change in the food system in general in recent years? If so, in which places?
When it comes to meat consumption, I feel a change. Now I don't have to constantly explain why I don't use animal products in my kitchen and have people imply that it doesn't taste good. A lot has definitely changed, both in my personal environment, in the supermarket and in the restaurant business. Many people are eating less animal and have understood that industrial animal husbandry contributes to the climate crisis as well as being the main cause of pandemics like Covid-19. Although we know this, far too little is still being done politically to prevent future food scandals, climate damage and disease outbreaks. As frustrating as this may seem, so much has already changed in the last 10 years.
What are the most important points that you think need to change in the coming years within the food industry, gastronomy, agriculture and why?
The issues of food waste, conventional animal husbandry and over-fishing are acute climate issues and we are in the middle of a global climate crisis. If we do not all consume more responsibly, there is little perspective for future generations. We all need to change our consumption patterns, explicitly consume less animal products and invest in regenerative agriculture.
Who do you see as responsible and why?
We as consumers, producers and restaurateurs, but of course also politicians. Responsibility must never be placed solely on the shoulders of the end consumer. But we must not relinquish all responsibility either. Since the governing politicians are eaten up by lobbying and do not move enough, we have to remain activists, vote out representatives who allow themselves to be bought by the economy, remain loud and demanding. For me, the clear political goal is the agricultural turnaround and also proactive support for entrepreneurs who work sustainably in a pioneering way and, for example, have themselves certified as organic in the catering sector.