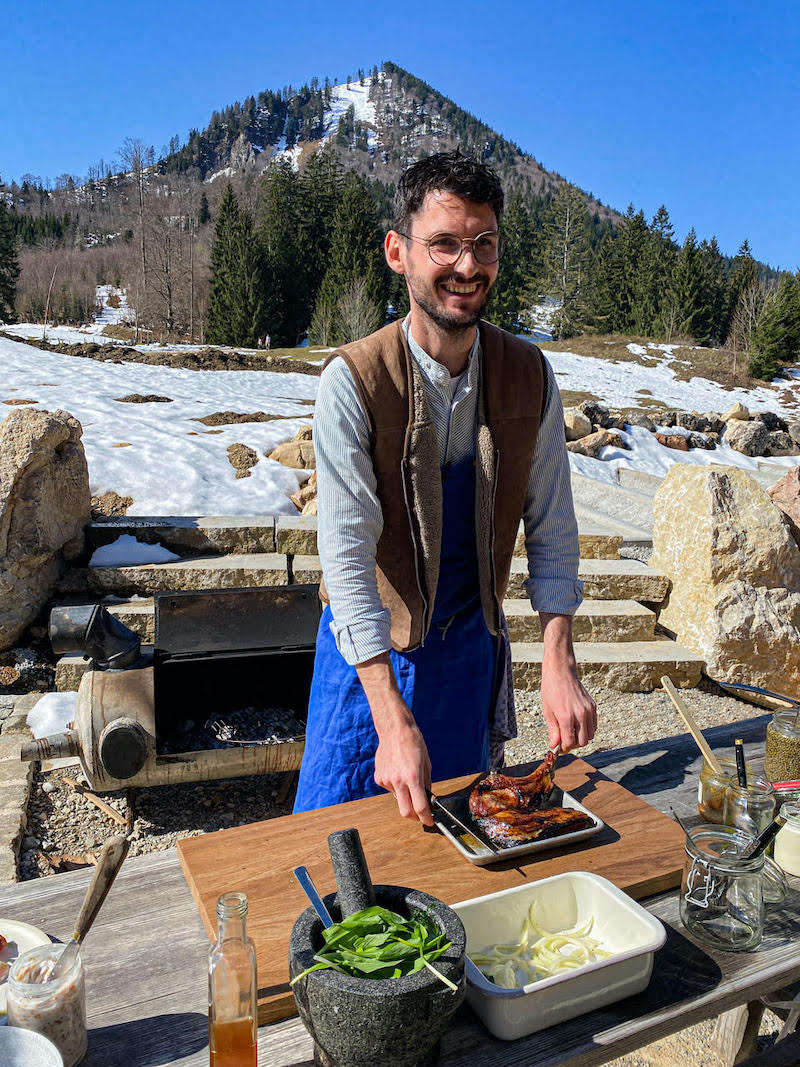 In the heart of the Bavarian Alps, the STUBN inn at the Fransdorfer Hütte wants to bring a new inn-culture to life. The vision of the STUBN is to preserve traditions and to devote full appreciation to the food craft. A place to linger and enjoy a natural mountain environment is to be created. The products that are processed in the kitchen come from befriended producers or from our own hunting. The rhythm of nature sets the pace for everything. We talked to Amalie and Max, whom we already know from Nobelhart&Schmutzig, about their plans.
Why did you decide to open a restaurant right here in Chiemgau and how does your concept fit in with the surroundings? 
The hut has been privately owned for years and has been leased for a long time. The idea is to create a place that connects to the activities of the previous business but also makes it possible for the interested public to experience at different levels. The own forestry-, hunting- and agri-culture are a constant relationship and dependence. We process the yields and products in the Subn with the aspiration of fullness and closed loops.and closed cycles. Beyond the restaurant it is possible to stay overnight and experience a mountain farm-like structure that includes vegetable growing, animal husbandry and fruit growing.
Being closer to producers in the countryside offers many opportunities. How well are farmers and producers connected in the region? What differences can be found in comparison to the surroundings of Berlin?
Especially because we are integrated into a larger private forestry and agriculture with associated hunting, the degree of internal networking is very high. We can draw a lot from this. For example, red deer from Sepp our hunter, as well as dairy products from the mountain pasture, the dammed mountain water fish farm, or fruit from orchards. In addition, everything what meadows and forests give. We don't have the distances here like in Berlin so everything is a bit smaller. A big topic for us is regenerative agriculture and biodynamics. In addition, we have built up a good network of a large number of producers over time. Basically the same work that Max did before at Nobelhart & Schmutzig. It has been noticed that people are also well networked among themselves and also exchange information. However, the communication is not as regular and coordinated as it is in "die Gemeinschaft".
Is there also a culinary regional difference, and if so, where do you see it most strongly? 
Culinary is culture, and only if this is preserved it will make a difference. In general, the cuisine in Chiemgau, as in other German regions, is very meat-based. The focus in Stubn is on working with vegetables and plant-based foods. Fish and meat are meant to round off the dishes, complement them and give them additional refinement. Because animal products in general are precious goods that should also be treated as such. They are indeed precious. Therefore, the claim is also to process the whole animal to pass on this appreciation from within.The products on the other hand are similar to those in Berlin or Frankfurt only the style is different. We have a very strong connection to the Alps and Italy and Austria are not far away. However, we are of course not as international as the big cities. Everything is a bit more down-to-earth and traditional here, and tradition plays an important role.
Max worked for a long time at Nobelhart&Schmutzig in Berlin and searched there detective-like for the best food in the surroundings. Have you been able to take any of this back with you from Berlin to southern Germany? 
Last year Max packed a few of the incredibly great strawberry plants from Jule and Jens (Ahrensdorfer Kräuterwelten) and planted them up on the alpine pasture near the Stubn. But much more important are the interpersonal experiences he was able to gather during his time in Berlin. These help here at Chiemsee in the exchange with the farmers and gardeners incredibly. At the same time, the environment is completely different, but nevertheless the curiosity for the most exquisite products of the region has remained.
"We see "Die Gemeinschaft" as an umbrella that ensures that the paths cross so that many like-minded people can connect to change something bigger and achieve goals together."
Your new work environment sounds idyllic, but what challenges do you face as a young team in rural Bavaria?
The fantastic location of the hut at just below 1,000 meters naturally challenges us a little. In any case, we have to be conscious of the resources available up there. After all, we are dependent on nature. When the summers are hot and dry, we have to come up with something because, for example, our spring only has a certain capacity. In winter it snows often and much, which can lead to the fact that the life in the Stubn comes to a standstill. It is important that we manage to create a symbiosis with nature and remain creative in our ideas.
How and why do you advocate for a sustainable change in food culture and what do you consider to be the most important adjusting screw for this transformation?
 We also have to think about future generations so that they have the same opportunities and perspectives as we have today. We can achieve a lot at the micro level, especially with our purchasing decisions. For example, if we pay attention to our supply chain with all suppliers and try to keep the ecological footprint as small as possible, we can also pass this on to our guests. In this way, we offer the people who visit our business the opportunity to make a sustainable consumption decision. By offering our interpretation of a resource-conscious cuisine, we also pass on a piece of responsibility to the guests.
"Culinary is culture, and only if this is preserved it will make a difference."
Why is it important to you to be part of "die Gemeinschaft"?
Because "die Gemeinschaft" has similar goals as we do. Mainly because we believe that together we can achieve more. We have similar goals such as establishing a new food culture in our country. Above all, we want to learn from each other and be in exchange with each other in order to advance ourselves but also others. Each and every one of us has their own vision and their own way to reach the goal. We see "Die Gemeinschaft" as an umbrella that ensures that the paths cross so that many like-minded people can connect to change something bigger and achieve goals together.