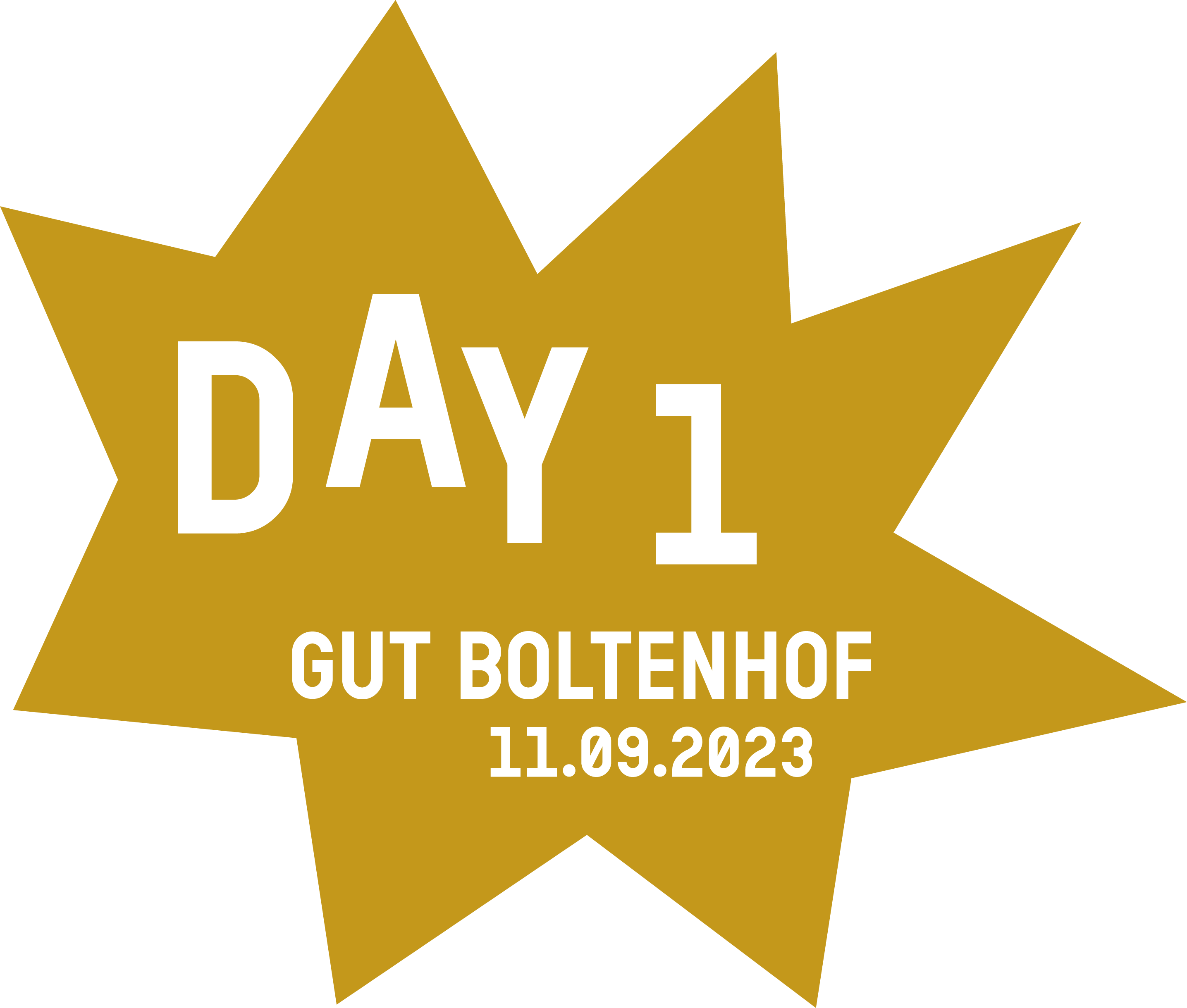 The first day on Gut Boltenhof is packed with exciting talks, workshops and discussions. In the afternoon round tables will give space for more networking and direct exchange. And to bring the day to an appropriate close, we'll pop the corks!

As an absolute highlight, dinner will be served in the open, prepared on the grill by Jan From Earth.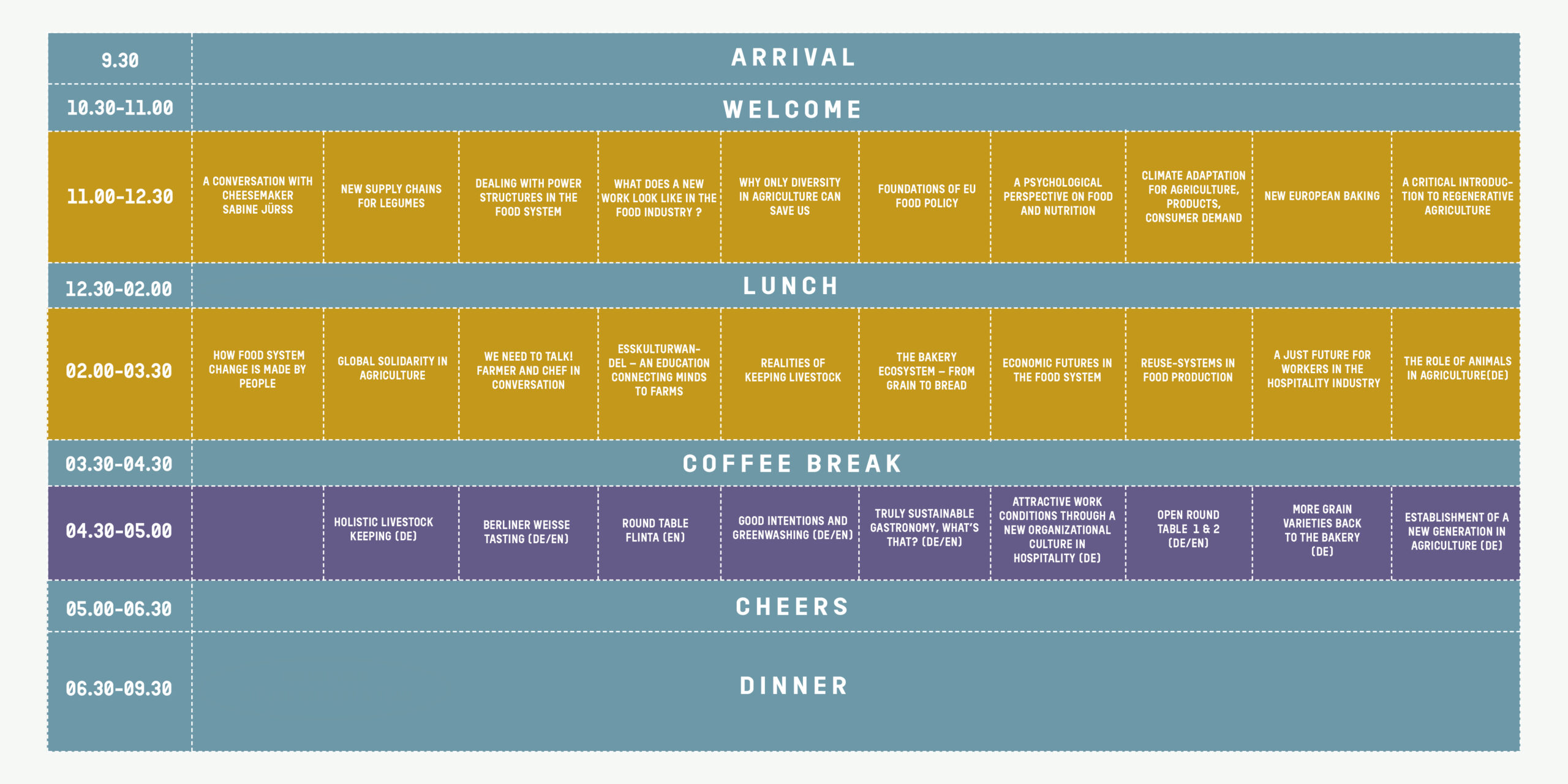 DISCUSSIONS, TALKS, CONVERSATIONS
(Sessions take place in parallel and each last the entire length of the block)
SOIL & AGRICULTURE

 

A critical introduction to regenerative agriculture (EN)

 

Climate adaptation for agriculture, products, consumer demand (DE)

with Paul Knittel

Why only diversity in agriculture can save us (EN)

 
 

LEGUMES

 

New supply chains for legumes – the example of chickpeas in Brandenburg (DE)

Bernhard Marwitz (Gut Friedersdorf)
 
 

MILK & CHEESE

 

A conversation with cheesemaker Sabine Jürß (DE)

 
 

NEW WORK

 

What does new work look like in the food industry? (DE)

 

Dealing with power structures in the food system (EN)

with Aida Baghernejad
 
FOOD CULTURE(S)

 

New European Baking (EN)

 

A psychological perspective on food and nutrition: how pleasure and sustainability can support treatment of eating disorders (DE)

with Inga Putz
 
 

POLITICS

 

Eating is a political act – foundations of EU food policy (DE)
Lunch
A quick break before we continue: Lunch is prepared by Gut Boltenhof with bread provided by our member Keit, the coffee cart by Five Elephant will run and Rosa Canina's ice cream bring our blood sugar levels back into balance
DISCUSSIONS, TALKS, CONVERSATIONS
(Sessions take place in parallel and each last the entire length of the block)
GRAINS

The bakery ecosystem – from grain to bread (EN)

MEAT & ANIMALS

The role of animals in agriculture (DE)

Milk, meat, slaughtering – the realities of keeping livestock (DE)

with Maike Sass


NEW WORK

EssKulturWandel – An education connecting minds to farms (DE)

Building bridges – how food system change is made by people (EN)
HOSPITALITY

A just future for workers in the hospitality industry (EN)

We need to talk! Farmer and cook in conversation (DE)

 

Zerowaste as principle – reuse-systems in food production (DE)

FOOD CULTURE(S)

True costs, invisible costs and economic futures in the food system (DE)

POLITICS

Global solidarity in agriculture (EN)
Coffee break
o digest all these impressions we'll take a break – and have some coffee! Obviously served by Five Elephant. Delicious goods will be provided by none less than La Maison.
ROUND TABLES
(Sessions take place in parallel and each last the entire length of the block)
Not just our speakers are experts in their respective fields – all of you are bringing experiences, challenges, and ideas from your daily work. To build on that, we will get together to exchange and network on specific topics.

Eating animals – keeping animals (DE)




Truly sustainable gastronomy, what's that? (DE)


Good intentions and greenwashing the "good food" movement (DE/EN)


Round table FLINTA (EN)

SUPPORTING THE NEXT GENERATION IN AGRICULTURE (DE)

A new  culture for better working conditions in hospitality (DE)


MORE GRAIN VARIETIES BACK TO THE BAKERY (DE)


Berliner Weisse tasting (DE/EN)



Open Space 1

Open Space 2
CHEERS

We'll end with a bang and a glass of Von Wiesen Cidre, non-alcoholic Verbena & Quince or beer from Barnimer Brauhaus. Let's toast to the day full of insights and inspiration and enjoy the moment to continue conversations and reflect on the day.
DINNER
with Jan From Earth & Team – down-to-earth, regional, seasonal!
Jan und his Team will grill a delicious 3-course meal for us to end the festival day. Imagine yourself at a long table, with a glass in your hand and greasy fingers. Some might remember 2019 – it was magical!
Everything is prepared on the grill, with vegetables sourced from the neighbouring Good Food Syndicate and meat (if desired) of course from Gut Boltenhof. Flatbreads, small salads, yoghurt, vegetables, and stone fruits for dessert – everything in family style. With that, we'll drink up Billy's sample wine bottles from the Nobelhart & Schmutzig as well as Kombucha from Bouche.
You can miss dinner – but you don't have to! We can serve a maximum of 80 seats, so make sure to get your additional ticket.
Berlin-based chef Jan Wichert started his culinary journey at the renowned Margaux and served as head chef at REMI. In the summer of 2022, he had his pop-up "From Earth" – a culinary discovery with a lot of heart and earth under his fingernails.
Be there! Get your ticket here: